A Brief Introduction
to the PAG Mission Hospital
Location:
Lira City, Northern Uganda

The PAG Mission Hospital is situated in Northern Uganda. It is located in Lira City East, Te Obia Parish, Town College Village, Agwata Road in Lira District where it has been operating since February 1994.
Socio-political Situation:
Setback through conflict

Northern Uganda has emerged from one of Africa's most brutal conflicts. The conflict has caused tremendous setbacks in education, health care, food production, sanitation, and infrastructure amongst others. The North is one of the poorest regions in Uganda today, and lags behind on all socio-economic indicators.
Our commitment:
Provide dynamic quality health services

Against this backdrop the PAG Mission Hospital is committed to continue to provide dynamic quality health services especially to the poor and most vulnerable. As a guideline for its health services the Hospital strives to implement the Government of Uganda's Minimum Health Care Package amongst other health interventions.
Our uniqueness:
Glorify God by serving the poor and vulnerable

The PAG Mission Hospital is unique in many ways: It seeks to fulfil its purpose in offering quality health services to all, but with special emphasis on the poor and vulnerable. In all it does, the Hospital seeks to glorify God.
Founding Partners
Pentecostal Assemblies of God Uganda
Volksmission e.C., Germany
Uganda im Visier e.V., Germany
---
---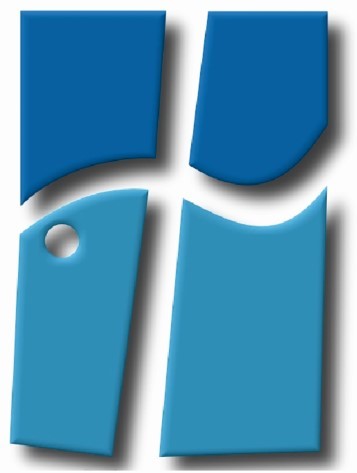 ---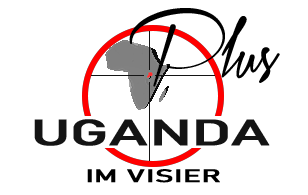 Chronology of Developments (2011 - today)

2011
In August Dr Andrew Odur joins the health Unit.
In October Sister Annemarie Eggimann returns back to Switzerland after almost five years of dedicated service in our logistics department.
In November the renovated operating theatre is opened and placed under the supervision of Dr Andrew Odur. The Health Unit now has over 100 staff employed.
2012
In April Dr Priscilla Göhner hands over the Administration of the Health Unit to Rev. Benjamin Okwir. Rev. Benjamin is now the new Health Unit I/C.
In June Rev. Siegmar, Dr Priscilla and their son, Jonathan Ochieng Göhner leave Lira and return to Germany. With Germany as their permanent base, they continue to be involved in the Health Unit and Missions work in Northern Uganda. They remain as members of the Governing Board of the Health Unit and visit the Health Unit at regular intervals.
In September Dr Pamella Auma joins the Health Unit.
2013
In February the founding doctor visits for the first time after leaving Lira in June 2012.
2014
Imaging Department opened.
2018
Dr Dickens Ogwal appointed Medical Superintendent.
Dental Department opened.
New Medical Store opened.
2019
In July, the Infectious Disease Ward is commissioned by the Japanese Ambassador, H.E. Kazuaki Kameda.
Celebration of 25 Years of service!
2020
In December, construction of a modern operating theatre commences.
2022
On 16th July the new operating theatre was officially commissioned by Rev. Dr. Simon Peter Emiau, the presiding bishop of PAG Uganda and Dr. Priscilla Göhner, the founding doctor of the PAG Mission Hospital and Dr. Franco Onaka, the Chairman Board of Governors, and other honoured dignitaries.
Shortly after the opening, the first baby was delivered by caesarean section.
Staff celebrated this new development with heavenly joy.
---
Dr. Dickens Ogwal, Medicial Superintendent.
New Operating Department, three Theatre-rooms and one Intensive Care Unit.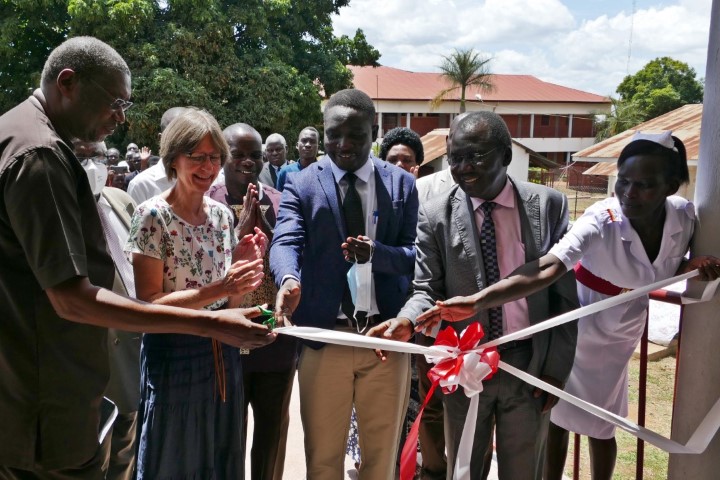 Cutting of the ribbon by Dr. Priscilla, the founding Doctor and Rev. Dr. Simon Peter Emiau, the Presiding Bishop of PAG Uganda.
The first baby is brought to the world by Caesaren Section soon after the dedication.
Staff celebrating the openen of the new theatre.
Chronology of Developments (2001 - 2010)

2001
The two apartments await the first batch of overseas volunteers.
The fourth staff house is built.
Land is acquired for a more adequate paediatric ward.
2002
A new paediatric ward with 122 beds is approved by the Government of Uganda.
Sister Barbara von Wilcke comes for one year and starts Nutrition Unit for malnourished children.
2003
Lira and surroundings become dangerous. Many take refugees at the church and our Health Unit. The sick and injured are being treated. The Red Cross assists with tents.
2004
Foundation is laid for new paediatric ward after years of struggle over land issues.
Jacob Bohnacker, architect from Germany, puts plinth and pours 152 re-enforced concrete pillars which will carry the super-structure that can reach up to four storeys.
2005
German Task Force under E.O. Mayer from the Volksmission pours the first ceiling and staircases, Bernard Etam carries on with local craftsmen. Pillars and second (and – for the time being – last) ceiling are poured.
Meanwhile the old paediatric ward with its 25 beds serves hundreds of children every month, stressing the urgency for the new ward.
2007
Sister Annemarie Eggimann from Switzerland enhances the team as logistics manager.
2008
78 members of staff look forward to opening of New Paediatric Ward in November.
Mortuary, kitchen and sanitary facilities are provided.
2010
In October the top storey of the new paediatric ward is opened for malnourished children.
In November the old paediatric ward is transformed into a ward for our male patients.
Chronology of Developments (1994 - 2000)

1994
In February the PAG Mission Hospital officially opens as a small Clinic in Lira. Hilda Abeja assists Doctor Priscilla Göhner. Two more rooms of the shed are added, being divided by reed-mats. Up to 90 people are treated daily, three times a week.
In May, the laboratory commences its services with the help of Rev. Benjamin Okwir.
In November, a Medical Assistant is employed, and people can come five days a week.
1995
A young nurse joins the "staff". Three beds for serious cases are squeezed in. In August the first staff-house is built, followed by the Outpatients' Department.
1996
OPD is completed and a German task force from the Volksmission e.C., together with volunteer-pastors from the PAG Lira Pastorate, erects paediatric ward. Second staff house is built.
Opening of paediatric ward with 25 beds, housing up to 70 children, plus their attendants!
1997
Small kitchen units are added to assist attendants to prepare food for their patients.
Foundation for maternity ward is laid.
1998
Maternity ward is opened, including eleven beds for non-pregnant women. Third staff house and a doctor's residence are added to accommodate the growing number of the Hospital Team.
2000
Two small apartments for overseas personnel are planned.
The German Embassy in Kampala donates an autoclave.